Discovery Maker Lab & Community Makerspace
Thanks to a partnership with Allan Hancock College and the Santa Maria Public Library, the Discovery Museum is thrilled to be part of the 'maker movement' here in Santa Maria. Our new community makerspace is now up and running and ready to inspire the next generation of innovators, problem-solvers, and critical thinkers through creative, hands-on tinkering and introductory manufacturing activities.
Open on Thursday & Friday from 2 to 5 p.m. and Saturday & Sunday from 12 to 4 p.m. the makerspace is included with the standard admission to the museum.
The Discovery Makerspace offers four integrated stations: Robotics, Circuitry & Electrical, Woodworking and Textiles.
We also transformed our "art from scrap" CREATION STATION into a  STEAM tinkering MAKER LAB on the main floor of the museum. STEAM combines the arts with science, technology, engineering, and math to create hands-on, interdisciplinary activities for children of all ages.
This is all made possible by a California Community Colleges (CCC) grant received July 2017.
NEW GRANT GIVES THE POWER OF MAKING TO THE COMMUNITY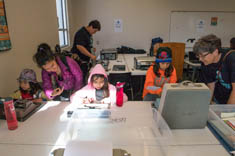 JULY 21, 2017–Allan Hancock College was one of 24 colleges to receive a CCC Maker Implementation Grant from the California Community Colleges (CCC) Chancellor's Office. CCC Maker awarded the college an amount of $350,000 to build an inclusive makerspace community in collaboration with the Santa Maria Public Library and the Santa Maria Discovery Museum.
"One of the determining factors was Hancock's innovative approach to the makerspaces," said Robert Mabry, associate professor of machining and manufacturing.
Mabry, along with Hancock faculty members Trevor Passage and Susannah Kopecky, collaborated with the college's office of institutional grants to develop a unique makerspace proposal.
"Our grants office researched the possibility of teaming up with the library and museum to see if it could be done," said Mabry.
In January, CCC Maker awarded Hancock an initial grant of $40,000 to demonstrate its visionary partnership. The result culminated in a maker's weekend with Friday Night Science at Hancock on May 5, and a Maker Fair at both the library and the museum on May 6. More than 2,000 people attended the events.
"After the success of the Maker Fair weekend events, all three institutions came away convinced there is a market for this movement," explained Mabry.
The "maker movement" centralizes around the idea that everyone has the capacity and ability to make something from start to finish.
As part of Hancock's continued commitment to the program, the college will provide internship opportunities to students, embed making into the curriculum and prepare students with innovation to thrive in the regional economy.
Hancock's makerspace will open the Computer Aided Design (CAD) lab, machine and welding labs to students, faculty and the entire community to provide a safe platform for tinkering with projects. Student interns will monitor the labs and use a cargo trailer to set up makerspaces in local K-12 schools.
"The makerspaces will enhance the student experience and will be central to developing connections with industry partners, securing real world work experiences, developing hands-on skills and supplementing curriculum," said Hancock Superintendent/President Kevin G. Walthers, Ph.D.
"One of the packinghouses in town already hired a student-worker as a maintenance worker trainee," said Mabry. "These are learning outcomes we want to see."
All members of the community are invited to sample the makerspaces at the college, library or museum. Currently, the Santa Maria Public Library offers Saturday afternoon makerspace events with various arts and crafts projects, 3D printing lessons and a "take it apart" station. The full calendar of events is available through the library's website at www.cityofsantamaria.org/city-government/departments/library. Learn more about CCC Maker at cccmaker.com.